Hiiros, Kazuti variety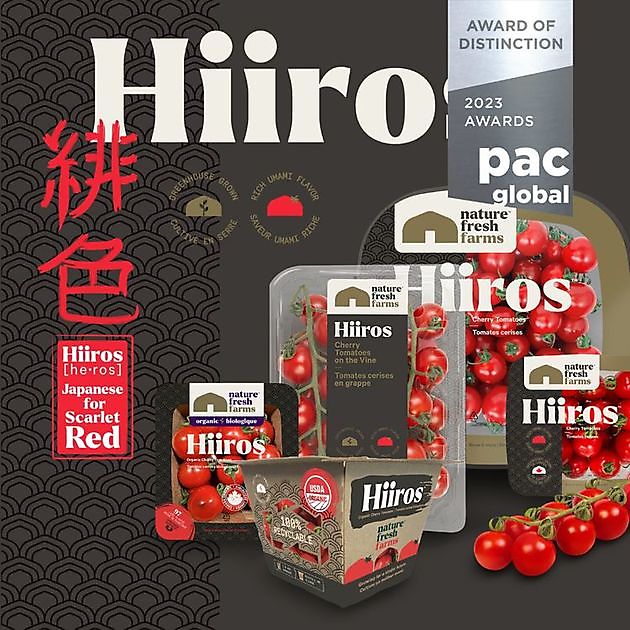 Hiiros, Kazuti variety by HWSeeds
13 marzo 2023 - Hiiros (Kazuti variety by HWSeeds) is a great succes all over the world. Naturefresh Farms made a very nice film how professionally sort and pack the Hiiros tomatoes.

Incomparable Flavor
Hiiros™ Tomatoes offer a rich umami flavor with a distinguishing level of sweetness that adds depth and complexity of flavor that you won't experience from any other Tomato.

What exactly is umami? One of the five basic tastes – alongside salty, sweet, sour, and bitter – umami is best described as a savory or meaty flavor. Hiiros™ Tomatoes are unique in that their umami flavor is perfectly balanced with a sweetness typically tasted in a Cherry or Grape Tomato.

After winning the green vegetable awards in 2022 with Kazuti, best overall tomato (out of 73 entrees) and best speciality tomato, Naturefresh also winst he PAC Global awards for the Hiiros packaging in 2023. What a great honour to be part of this winning team with our Kazuti. Naturefresh farms as a grower really knows how to get the best flavour out of our variety.

Awards of Distinction at the 2023 PAC Global Awards Futures Edge Summit this week for Nature Fresh Farms Hiiros™ Tomatoes packaging!
Para más información, visita: www.linkedin.com
Para ver más publicaciones, visita nuestra página del blog